Accessing The Eiffel Tower
The Eiffel Tower can be accessed by elevators and stairs. Once you've entered the Eiffel Tower Esplanade, you will find the ticket offices, elevators and stairs in the Eiffel's 4 dominating pillars. The East & West pillars of the Eiffel have elevators that go up to the 2nd level while the South Pillar has stairs all the way to the 2nd level.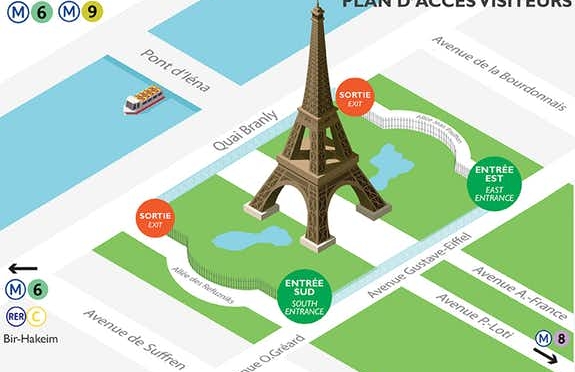 Esplanade Entrance
To reach the Eiffel Tower esplanade, there are two entrances in the gardens that surrounds the base of the tower - the South and the East entrance. Here, you will pass through the first round of security checks before heading on to the tower and also have the chance to spend some time in the recently landscaped gardens.
Tips: Head to the East entrance as it is often less crowded.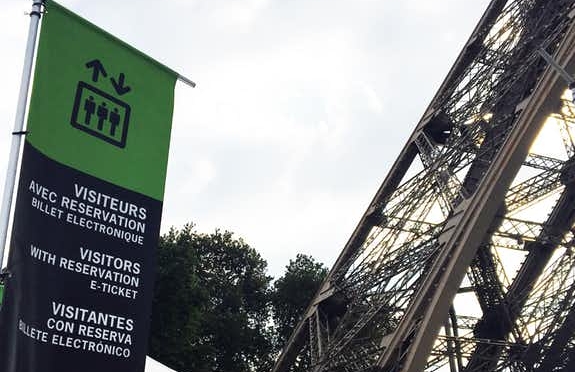 Taking The Elevator
Elevators that go up the tower are situated in the East and West Pillars of the Eiffel Tower. If you have your tickets, then join the queues with a green flag for direct access to the leg's entrance. Visitors without tickets need to join the queue for the ticket office (marked by a yellow flag). Both the East and West Pillars have ticket offices. Once you've bought your tickets, you can join the queue with the green flag.
Note: Please know that it is advisable that you purchase your tickets online, well in advance as the ticket queue can easily last more than an hour.
Taking The Stairs
If you have bought stair tickets to the Eiffel or wish to access the Tower via the stairs, then head to the South Pillar. Here, you will be able to purchase tickets for stairs to the 2nd level as well as elevator tickets to the summit from the 2nd level.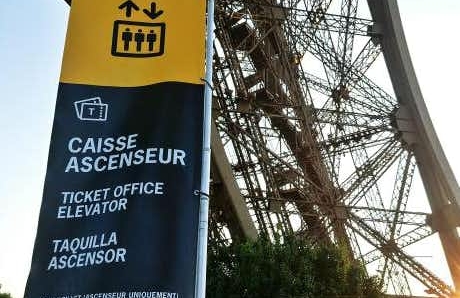 Ticket Offices
Ticket Offices can be found at the East, West, and South Pillars. The West Pillar (Pilier Ouest) has an Information Desk.
Eiffel Tower Tickets